New Zealand Cities - Cities in New Zealand
Cities in North & South Island New Zealand
Picturesque New Zealand has beautiful cities interspersed in North Island and South Island. The cities are famous for parks, beach activities, vineyards, orchards, and various types of industries. Well-planned and attractive, the cities are regularly visited by business people, students, travellers, tourists, and working holiday people.
The 'city of sails', Auckland is a harbour city that has beautiful beaches. It not only offers a great destination for tourists but also for international students. Top universities are located in this city which pioneer in technology and research activities. In South Island, the 'garden city', there are parks and gardens. There are festivals on art, music, and nature. Close by, Canterbury area hosts ski-resorts, wineries, and industries related to bio-technology and information technology.
Queenstown is yet another attractive city that is vied by shoppers. Pulsating nightlife is common. However, the city also has many popular institutes that provide world-class tertiary education. If you are looking for somewhere close to nature, you can visit Hamilton in the North Island. Pristine nature, bird-watching centre, and land of orchids, the Hamilton city grew on either banks of the Waikato River. Rich fertile land has made agriculture an important preoccupation here, similar to Nelson. Napier too, is a similar farming area in New Zealand. The city is famous for the Arataki Honey. Tourists flock in large numbers to buy soaps, beauty and health care products made from this honey.
Dunedin is one of the popular educational centres in New Zealand. Situated in South Island, the city has many vocational institutes that provide technical knowledge to students. Situated on the Otago harbour, the city has beautiful scenic spots. English learning and outdoor educational courses are easily taught here.
Have you selected the city where you plan to study or work? Write to us for more information from our advisers.
Cities in New Zealand
Cities & Regions in New Zealand
New Zealand's towns and cities have a charm of their own.
The major cities include Auckland (the largest), Hamilton in the Waikato region, Palmerston North in the Manawatu region, Wellington the capital, Christchurch in the Canterbury region and Dunedin in the Otago region.
Cities & Surroundings in New Zealand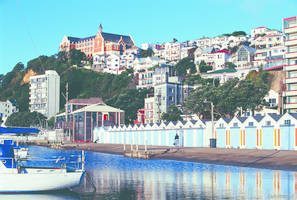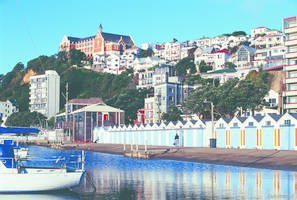 When one thinks of New Zealand, they think of Mountain Ranges, Spectacular Beaches, Rugby and Bungi Jumping. New Zealand does also have some exciting and trendy cities. These cities are full of history, beauty, culture, entertainment and many shops.
Although the major cities may be small in comparison to many other countries, this makes for a more friendly, easy going pace. As well as there being less pollution and crime then bigger international cities.
New Zealands capital Wellington located on the North Island is in fact only the third largest city in the country. With Auckland and Christchurch beating it in population. Each city has a unique story, and each is in close proximity to all natural attractions. Making a stay in one of the large New Zealand cities a great place to stay on a New Zealand holiday.
New Zealand Cities
Major Cities in New Zealand
Like Australia, New Zealand is also an island country. It is located 2000 kilometers south east of Australia and is comprised of two land masses commonly known as the North Island and the South Island. The indigenous Maori name is Aotearoa which loosely translates to 'The Land of the Long White Cloud'. The country has a population of over 4 million people.
Their national icon is the kiwi (pronounced as kee-wee) it is a flightless bird, about the size of a chicken. The birds usually have dark brown feathers and have a distinctive long and thin beak. They are native only to New Zealand and though there are five known species of the kiwi, they are all currently an endangered species. Kiwis are closely related to Australia's Emu and Africa's Ostrich. Colloquially, people from New Zealand are also referred to, as 'Kiwis' or otherwise are known as New Zealanders.
Sports are a very important part of New Zealand's culture. Though they are a small country with a small population compared to other sporting nations, New Zealand does very well on the international sporting stage. The most popular sporting teams are the New Zealand cricket team, the national netball team known as the Silver Ferns (netball is the most popular women's sport) and the All Blacks in rugby union which is considered the national sport of New Zealand and are a very successful international team. They are known as the All Blacks because of their uniform and are also well known for the performance of the haka, a traditional Maori that consists of the rhythmic stamping of feet and chanting, before every international game.

New Zealands Main Cities
New Zealand is a country full of history and beauty, with history even as it seems within the controversy of what a city actually was. Before 1989 the term city took on two meanings. Before this time a borough council with any more then 20,000 people was considered a city. However after 1989 the government decided on a new system where city councils where bought in aswell as districts, this has made the system alot easier.
There was also some controversy from 1852 and 1876 due to no formal documentation showing which of the cities Nelson, Christchurch or Otago was considered New Zealands first city. After this in 1876 when the Municipal Corporations Act was developed and contained the schedule of cities with dates each was constituted, it was found that Dunedin was to be New Zealands oldest or first city.
New Zealand is split into two islands each with its many big and interesting cities, however Wellington was to become the capital situation on New Zealands North Island.
Wellington has a population of only 381,900 people on an are of only 444 square kilometers. Wellington may be the capital but it is certainly not the biggest.
The largest cities run in this order: Auckland as number one also on the North Island with a population of 1,313,200 people on an area of 1,086 square kilometers, second is Christchurch on the South Island with a population of 382,200 people and an area of 608 square kilometers and then coming in third is the capital city of Wellington. They are followed by Hamilton, Tauranga, Dunedin, Parlmerston North, Hastings, Nelson and Napier as the top ten largest cities in New Zealand.
There are many cities to visit in New Zealand though all with their own individual beauty and interesting qualities.
On the North Island there is Auckland, Whangarei, Hamilton, New Plymouth, Tauranga, Rotorua, Gisborne, Napier, Hastings, Wanganui, Palmerston North and of course Wellington.
On the South Island there is Nelson, Christchurch, Timaru, Dunedin and Invercargill.
Of course these are only the major cities, there is so much more to see in New Zealand. What a fantastic place for a visit.