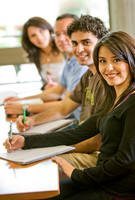 Foundation Studies New Zealand
Foundation Study Programs New Zealand
Foundation Studies in New Zealand is a one year course and start dates may be in March, April, July and September depending on the University. The courses are scheduled to finish shortly before the beginning of the next University semester so successful students can proceed directly into their Bachelor degree studies.
Many New Zealand Universities and other Higher Education providers offer a course called a Foundation Program. A Foundation Program is a one year course designed for students who do not speak English as a first language.
A Foundation Program is different to many English language courses. As most English language courses are short term, trying to fit as much information into a short time frame as possible these are usually run through private providers. Foundation Programmes are continuos courses that help students to learn everything they need to know to get them to a stage where they need to be.
These programmes teach students communication skills, as well as integrated reading, writting, listening and speaking. Foundation Programmes are available yearly to all international students.
Students who wish to go to University but do not want to go to secondary school because they may have already completed schooling in their home country and/or may consider themselves too old can qualify for University by taking a Foundation Studies course at one of the Universities who offer these courses.
Students need to satisfy English and academic requirements to gain entry to Foundation Studies in New Zealand.
English Requirement - IELTS (General) 5.0-5.5 or TOEFL of 490-530+
Academic Requirement - depending on country. Some examples are:
China – 70% average in Year 12
Hong Kong – D grade average in HK CEE
Indonesia – Grade 6.5 average in SM43
Thailand – Grade 2.5 average in Matayom 6
In Foundation Studies in New Zealand students will study compulsory and optional subjects and must achieve an acceptable grade average and IELTS (Academic) result to proceed to undergraduate studies. A pass in Foundation Studies can qualify a student for entry into any University in New Zealand.
International Student Applications
Apply here and receive our free services!