New Zealand has an exciting technological edge in the sporting world regarding the use of carbon fiber. Starting in the early 1990's New Zealand has pioneered the daring use of this space-age material for racing motorcycles, the 2000 series of the Americas Cup Yacht races which she won handily and most recently the world record setting round the world powered boat on the least fuel, the Earthrace boat.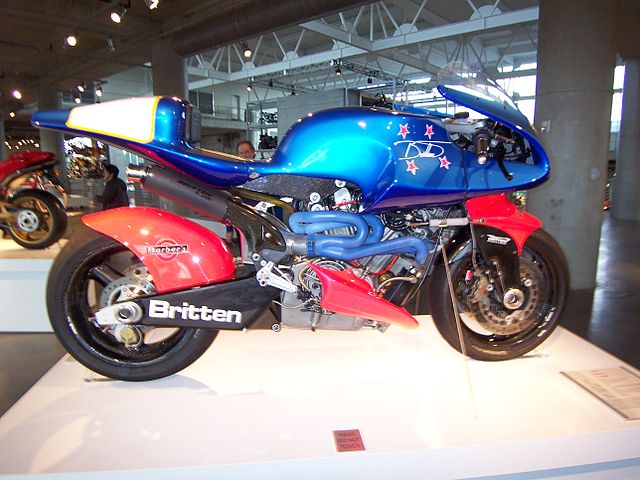 If you have any interest in world class racing motorcycles but have wondered what kind of country, what environment, what schooling system, what kind of culture would dare breed such avant guard thinking– look no further, it is New Zealand.
Most people of the non racing world have never heard about the Britten motorcycle but this racing-mad country has all but enshrined John Britten as one of its pre-eminent inventors and one of its greatest legends.
As has been said time and again by so may experts and commentators, the self reliant can-do attitude that New Zealanders have had to develop was in no small part a direct result of being so severely isolated from the nearest re-supply which was often 20,000 Kilometers away in Europe. If you visit this country you will become aware of its penchant for making do with less and making things work on a proverbial shoe string. Taking a totally whole new approach to problems and coming up with radical, unprecedented solutions are what has not only characterized Brittens Bikes – eventually 10 were produced- but arguably is a hallmark of this nation.
This is what John Britten and literally a few friends did in designing and building his V 1000 racing motorcycle. It not only took the sporting world by storm, it shattered it! It has been described as the greatest motorcycle ever built and it set four motorcycle world speed records: the standing ¼ mile, the mile and kilometre and the flying mile at 302 kph. It went on to win the Battle of the Twins in the Netherlands in 1992 and Daytona and did so repeatedly in that even and the BEARS – British European American Racing – events in the latter 90's. Huge factory teams and resources fielded by Honda and Ducati were of no use against the tiny crew and enterprise of the Britten contingent as they all succumbed to the ferocious speed, lightweight and revolutionary technology that liberally adorned the Britten. Aerodynamic charge induction, and consequently small radiator location, lightweight semi-intelligent front girder-type suspension, frame-less design and construction, various parts of this winning recipe have now been adopted by the worlds competitors whom back then did not realize what they were looking at and falling victim to at the many races across the world.
Built almost entirely of carbon fiber including the wheels, even the motor itself was an entirely radical, brand new and unique creation which Britten hand cast in aluminium himself.
Sadly, New Zealand and the motorcycling world lost a great visionary and revolutionary designer when John Britten succumbed to melanoma in 1995.