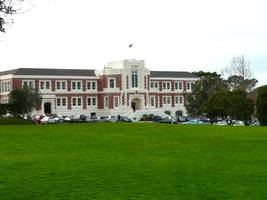 New Zealand Language Courses
English Language Courses New Zealand in Comparison
Important: English courses in New Zealand are charged with a weekly fee between NZ$300 - 400.
Overseas students have to consider that living costs in New Zealand are around NZ$300 per week.
Our team can help you to find a suitable english language course in New Zealand for FREE at one of the English schools in New Zealand.
Cambridge Courses vs General English?
Cambridge Courses are more intensive, if you are looking for a formal qualification a Cambridge course will be for you. Keep in mind however this course has a lot more work, you will need to complete 2 hours of homework every day.
Cambridge Courses vs IELTS Preparation?
IELTS is designed for those who wish to study at University, where as Cambridge offers a broader range of General English courses which will help in community and job situations.
List of the English Language Courses New Zealand
English Language Courses New Zealand
English Tests New Zealand
Intensive English Courses
Intensive English Courses in New Zealand
You will be delighted to know that our new Customer Relationship Management system is now fully operational, and we have seen a dramatic reduction in the time it takes to process applications.
Our new websites are live, and our students are enjoying their online social network community. Posts are being made on our forums regularly so encourage your potential students to visit and ask questions to get more information. It is a fun interactive way for new students to meet current students!
Check out with us to find all the latest information about living in New Zealand, our courses, locations and costs.
If you have visited our Auckland Central Academy in the last week you may have also noticed our newly renovated Student Services Centre. To the delight of our students we have also just added a new student photo montage across a wall!
The Redfish Employment area has received new computer equipment which makes it easier for students to receive even more guidance in their job search and CV preparation. Our student lounge continues to be popular with everyone, and is a great escape to play a game of pool or for relaxing while watching the TV on the new plasma flat screen.
Celebrate with us – it's an exciting time for everyone!
Courses and Start Dates
Intensive General English (one week or more)
IELTS Preparation Course (one week or more)
Certificate in English for Hospitality (12 week course; weekly modules can also be studied)
Certificate in Business English (12 week course; weekly modules can also be studied)
TESOL (4 week course)
NB: Courses are NZQA approved and accredited. TESOL pending.
Courses start every Monday. The TESOL programme starts every Monday in any month with the exception of December.
Special Promotions
• Enrol for 7 weeks and get 1 extra week FREE
• Enrol for 10 weeks and get 2 extra weeks FREE
• Enrol for 20 weeks and get 4 extra weeks FREE
• Enrol for 30 weeks and get 6 extra weeks FREE
• Students who enrol at Fern and then pathway to a diploma programme at NZMA are eligible for a fee credit of up to 3 weeks of Fern fees per year of diploma studied
International Fees
Enrolment Fee FREE
Full Time $340* per week 20 hours per week + optional 4 hrs per week conversation class or self-study class
Full Time TESOL $1790* 4 week course 32.5 hours per week
Part Time $210* per week 10 hours per week + optional 4 hrs per week conversation class or self-study class
*Course fees include all course costs and compulsory class activities. Students may be required to pay for transport to and from activities.
Offering of courses is subject to minimum enrolment numbers. Please note the fee protection and refund policy in the Enrolment Form and Fern Student Information Booklet.
Fees may be subject to change at a later date. Course fees are in NZ dollars and Goods and Services Tax (GST) of 12.5% is included.
Fees are not altered if a student's status changes to Permanent Resident during the enrolment period paid for.
All international students are required to pay their course fee prior to beginning their study at Fern.